750km, 9 days, come rain, come shine, five representatives of British Cardiac Society and four riders of the Colombo Team will cycle the entire length of Sri Lanka for one cause: providing all children and adults with heart disease with equal chance of recovery.
All funds they raise will be directed to two charities - UK's British Heart Foundation and Sri Lanka's Little Hearts – depending on donors' wishes.
Together they are known as Cardiac Cycle Lanka (CCL) team. Their names are Peter, Divaka, Michael, Rob, Shamindra, Manjula, Channa, Roshan and Sanjay, and they describe themselves as "a group of friends and colleagues, many of whom had not been on a bike for about 20 years at the start of this project." Yet, on June 11 these nine men started what some would describe as a rather dangerous journey across unpaved, cracked, winding, narrow and at times non-existing roads.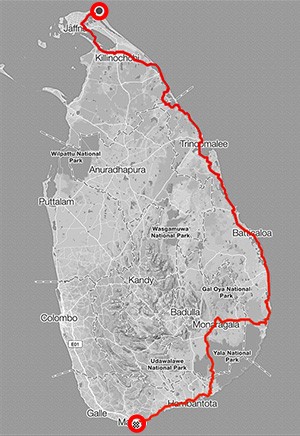 They are guided by passion and great company. Dorset, UK-based Consultant Interventional Cardiologist Peter O'Kane said:
"I have had the privilege of training budding interventional cardiologists from Sri Lanka and over the many years I have known Divaka, have heard lots of amazing things about the country. To have the chance to cycle, with friends, in Sri Lanka AND raise money for two worthy charities was an opportunity too good to miss."
CCL team's arduous ride in a way resembles the plight of thousands of Sri Lanka's little heart patients. From Dondra to Jaffna, children with heart disease journey to the Lady Ridgeway Hospital (LRH) in Colombo to seek remedy.
Ill and weak, every year these children spend hours on the road in overcrowded and rundown buses only to find that LRH is unable to provide them with immediate treatment. They then either return to homecare, or remain at the hospital with their family camping by their side for weeks and even months on end until their turn for treatment comes.
As our kindhearted riders pedal their way to Jaffna, the aching little hearts of Sri Lanka are facing their own dangerous and winding road to recovery. However, it is comforting to know they are not alone; It is heartwarming to hope they will emerge victorious – together.
Even though the fate of our little heart patients has been dim in the past, Little Hearts charity with the incredible support of their generous donors and benefactors are working hard to pave the path to salvation of thousands of our children.
Only one day into the trip, Cardiac Cycle Lanka had raised well over LKR 3 million from both British and Sri Lankan donors! Give them your support and extend the hand to one of their noble causes. Let them know that they are not riding alone.
Visit www.cardiaccyclelanka.com for more information.